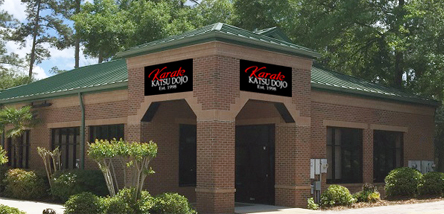 New students are welcome to start at any time. Classes are offered twice a week. We encourage anyone who has an interest to stop by and try their first class for free! There is never any obligation, so you have nothing to lose! Please review below for class times and starting information.
Beginner Classes

| Kids | Adults |
| --- | --- |
| Ages 6-13 | Ages 14 & Up |
| Mon & Weds | Mon & Weds |
| 6:30-7:15 pm | 7:30-8:15 pm |
Frequently Asked Questions
(Feel free to contact us if your question is not answered here!)
It is $98 per month for the regular karate classes. Your first month is free with the purchase of the Beginner's Package.
No. There is never any contract to sign. We want students to continue with us because they enjoy it, not because they are under contract! Students pay monthly, without any obligation.
Yes. Karate is a sport that all family members can participate in, regardless of age! There is a $10 discount for each additional family member. For example: the first pays full price, the second gets $10 off, the third gets $20 off, etc.
Classes are offered twice a week. Since we cover new material in each class, it's always best to attend both classes each week. If you need to miss one, no problem- just let an instructor know, and we'll do our best to review missed material.
Simply register online by following the link here. Select "Magnolia Parke" as your facility and we will contact you via email to schedule your introductory lesson. Please wear athletic clothing (either sweat or jogging pants) and a plain t-shirt. Please do not wear jeans or dresses. Also it is best to remove all jewelry.
Maybe. Most children under the age of 6 have a difficult time with the motor skills and focus required to participate in the 45 minute Karate Class. However, there are a few 5 year olds that can handle the beginning class. If your 5 year old is close to age 6, has good focus, and can do a structured activity for 45 minutes - you can have them try the class. The instructor will be able to determine if your child is able to join the class.  We offer a special class for 4 & 5 year olds at our O2b Kids locations called Pre-Karate.  You can view the times and locations of the Pre-Karate class from our Locations page.
This depends on the style previously studied and current ability level. Katsu Dojo is a traditional Shito-Ryu karate school with emphasis on quality technique. Students that come from a traditional school and demonstrate good technique may be able to transfer into our style at an appropriate belt level.
Students must be evaluated by one of our instructors to determine their knowledge and ability level. The beginning karate instructor will be able to evaluate students to determine the best class for them.