DEDICATION
Team Katsu is comprised of the most dedicated and talented students of Katsu Dojo. Katsu Dojo competes on the USA Karate tournament circuit. The US Olympic Committee recognizes USA Karate as the only governing body for sport karate in the United States. Katsu Dojo is the only registered member of USA Karate north of Orlando in Florida. Team Katsu members have won over 100 National Championship gold medals since 1999. Katsu Dojo has the only athlete in the history of the state of Florida to medal at the WKF World Karate Championships.
Where has Team Katsu been?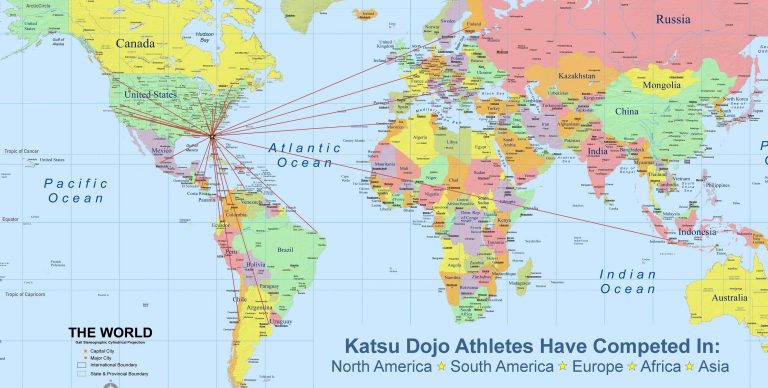 KATSU CHALLENGE
The Katsu Challenge is a karate tournament hosted by Katsu Dojo each year in the Exactech Arena on the University of Florida Campus in March. It is a US Olympic Qualifier for the USA Karate National Championships held in July each year.  The Katsu Challenge is also an official event of the Sunshine State Games.  Athletes from all over the state of Florida come to compete.  You can get more information on the Katsu Challenge here.
The purpose of the Florida Sport Karate League is to provide quality competitions which serve to enhance American Karate and to bring Florida Karate athletes up to Olympic standards. The FSKL sponsors a tournament circuit with several traditional tournaments throughout the state of Florida each year. Each FSKL tournament uses the exact same rules which will prepare athletes to compete in the USA Karate National Championships. You may click on the logo for more information and a tournament schedule.
USA Karate (or USANKF) is recognized by the US Olympic Committee as the governing body for sport karate in the United States. USA Karate hosts traditional karate tournaments throughout the country including the Junior Olympics and the US National Championships & US Team Trials. These trials determine which karate athletes are selected to represent the United States at the Pan American & World Championships. Karate will be an official Olympic Sport in the Summer Games in Tokyo in 2020.
The PKF is recognized by the World Karate Federation as the governing body for sport karate for the Western Hemisphere. The PKF has 37 member countries from both North and South America. The PKF hosts the Pan American and Junior Pan American Championships each year – as well as the Pan American Games every 4 years.
The mission of the WKF is to train athletes and develop their mental and physical health throughout the world by securing their participation in international karate activities. The WKF hosts the World Karate Championships which is held every two years and is attended by athletes representing over 100 countries throughout the world. The WKF is sanctioned by the International Olympic Committee. International athletes must compete on the WKF tournament circuit to qualify for the Summer Olympic Games which will be first held in Tokyo in 2020.